London's Limmo Peninsula Enhanced by Wildflower Meadow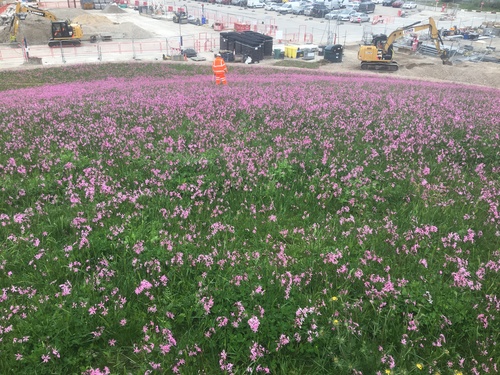 Hampshire-grown wildflowers have recently commuted to London, playing their part in the regeneration of Canning Town as part of London's ambitious Crossrail project.
A beautiful wildflower meadow supplied by wildflower experts Wildflower Turf Ltd is now capping a maintenance and escape shaft for the Elizabeth line on the Limmo Peninsula.
Overlooked by high-rise developments and next to the River Lee, the peninsula was Crossrail's primary worksite for their eastbound tunnel boring machines, and the area adjoins Canning Town Tube and Docklands Light Railway station. Working with landscaping partner Turney Landscapes Ltd, Wildflower Turf Ltd was commissioned by CSJV – the Costain Skanska Joint Venture responsible for the turning the former construction site into the permanent Elizabeth line access shaft – to provide a biodiverse solution that will provide local workers and Canning Town residents alike with a temporary landscape that is both aesthetically pleasing and ecologically-friendly.
Turney Landscapes installed 2,600m² of Wildflower Turf Ltd's Roof Turf in March and April of this year, across and down the sloping 8-metre-high exit shaft. Despite the challenging landscaping conditions, the turf is already flowering with the wildflower meadow providing a spectacular display of colour.
Steven Turney, Director at Turney Landscaping Ltd said, "Working on such a large-scale and time-critical site as the Limmo Peninsula, it is crucial that our suppliers are able to adapt to many and varied requirements." Turney continued, "The team at Wildflower Turf Ltd assisted us to ensure that this project was delivered on time and in budget, and the wildflower meadow is a dynamic addition to the local area."