New collection of design-led front doors helps style-conscious homeowners make the right first impression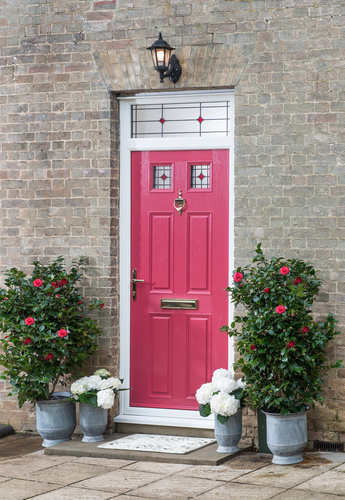 Homeowners want an opportunity to create a style for their home that really suits their personality and creates a strong first impression
A new collection of stylish front doors has been created in an exciting collaboration between popular interiors magazine House Beautiful and leading home improvement company Everest.
The eye-catching new collection includes 24 different designs, available in 16 elegant colours, with a variety of letterbox, glazing and accessory options, enabling the homeowner to truly personalise the entrance to their home.
The House Beautiful doors combine the design expertise of House Beautiful with the craftsmanship and manufacturing knowledge of Everest. They are made from a hardwearing composite material that looks and feels like wood but never needs painting, so homeowners can have the 'kerb appeal' they've always wanted with none of the hard work or maintenance. Bespoke made to the customer's exact requirements, they come in an array of on-trend colours and in ranges encompassing Contemporary, Art Deco, Georgian, Ultra Modern and Cottage styles.
Martin Troughton, Marketing Director at Everest, says, "With increasing numbers of people looking to improve their property these days rather than move home, the demand for bespoke styles and finishes seems to be ever-increasing. Homeowners want an opportunity to create a style for their home that really suits their personality and creates a strong first impression.
"While Everest is trusted by householders to manufacture and install strong, functional products here in the UK for more than 50 years, teaming up with House Beautiful has given us valuable insight into the latest design trends and colours. Together we have been able to create a collection of top-of-the-range front doors in softer shades, earthy tones and bold colours identified by House Beautiful as being in vogue, as well as adding aesthetic finishing touches that enable homeowners to add individuality to their property."
Lizzie Hudson, Executive Editor of House Beautiful, adds, "We're thrilled to be collaborating with Everest on our first collection of front doors. It's been so exciting to bring our design expertise together with the craftsmanship and manufacturing knowledge of leading door manufacturer Everest to create this most stylish made-to-measure range. A new House Beautiful door will definitely give your home the wow-factor it deserves!"
Guaranteed for 10 years and A-rated for warmth, each door is 70mm thick, making it significantly sturdier than a standard front door, and comes complete with double rebate weatherproof seals. The doors have been rigorously tested for strength and security, achieving the Secured by Design seal of approval – a police initiative to 'design out crime' with physical security.
For more information on Everest's new House Beautiful door collection, visit https://www.everest.co.uk/doors/