Future Proof Your Home: 4 Ways to Transform Your Home with Smart Technology
Why is investing in future proofing your home important?
Smart home technology is evolving and transforming the way we build and repair our houses. If you haven't noticed, we already live with internet-connected devices such as tablets, smart TVs, smartphones, wearables, and iPads.
The number of things smart homes can do, as well as the possibilities, is growing by the day, which means that designing a smart home can be a thrilling experience.
Consider how much of a difference it would make in your life if you could programme lights, alarms, and/or warmth for specific times of the day.
Smart technology may seem like a costly addition to consider when building or upgrading your home, but it will keep your home technologically relevant for your family for years to come. As a consequence, you'll have a fashionable home that will be the envy of all your friends, while also improving in value over time.
4 Ways to Future Proof Your Home with Smart Technology
Smart lighting control;
Automated home security systems;
Smart heating thermostats; and
Wireless entertainment systems
Use Smart Lighting Control to Future Proof Your Home
You'll be shocked at how much leaving lights on while you leave the house raises your utility rates. The amount the average household spends on electricity and gas is set to surge from 1 April, leading many of us to look for new ways to cut down on our energy use wherever we can. This is why you require intelligent lighting. Smart lights, which range from light bulbs and plugs to light switches and wall panels, are a common smart home entrance point.
It makes no difference whether you're upstairs in your room or driving to work. You can manage the lighting in your home from afar. You can turn off the lights simply by installing a smart lighting app to your phone.
Use Automated Home Security to Future Proof Your Home
CCTV and security cameras have long been used by businesses and in public areas, and they're an excellent deterrent against thieves. But the best part, now that home security cameras are commonplace and affordable, is that they are fully customisable to your specific security needs.
Most modern smart cameras can be accessed using an app on your phone, meaning remote access will give you remarkable peace of mind, and it's incredibly convenient to have complete control while away.
Smart cameras typically include a built-in alarm that can be activated remotely, functioning as a secondary deterrent if someone manages to get access.
You may also safeguard every room in the house as well as the outdoors.
Intelligent Doorbells
If you live alone, a Smart doorbell is equipped with cameras that start recording whenever there is movement outside your home or when the visitor's button is pressed, allowing you to see exactly who is outside your door via an app on your phone.
Many smart doorbells record in HD, and some even have night-vision capabilities, allowing you to see who's outside when it's dark. Most gadgets also include an intercom system, allowing you to communicate with others without having to open the door.
Smart Homes
Burglaries are on the rise in the U.K. and the solution is a smart lock, which can be entered using a PIN number, smartphone, or even your fingerprint or face. You will be able to check that your home is locked wherever you are in the world and lock it from anywhere if you forget or need to check that it's secure.
Use Smart Heating Systems to Lower Your Household Expenses and Future Proof Your Home

Heating expenditures are, unsurprisingly, your largest household expense, accounting for 40% of all power consumption. With the recent rise in heating bills, installing a smart thermostat is one of the finest decisions you can make.
While features vary depending on the model and manufacturer, most give you more control over your heating, hot water and boiler than comes with a standard system.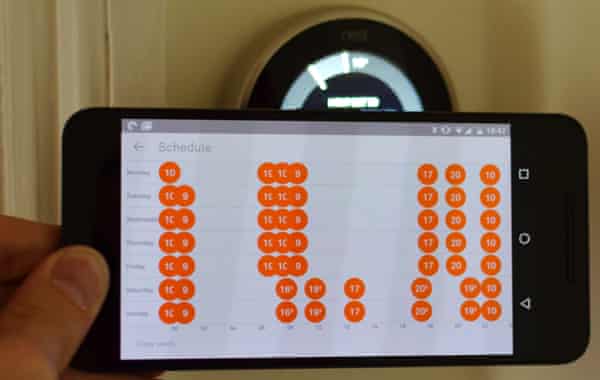 You can adjust their temperature setting, set timings and turn the heating on and off via an app on your phone or using Alexa or Google's Assistant smart speakers.
What are Some of the Advantages of Using a Smart Thermostat?
Energy savings: Smart thermostats have the potential to save you money on your energy bills, but the amount you save will depend on your usage as well as practical factors like the size of your home. When you leave the house, a smart thermostat with geolocation capabilities, for example, can switch to a more eco-friendly setting or turn off completely. Furthermore, multi-zone features allow you to heat certain areas of your home.
Remember that any savings you expect to make out of this investment could be cancelled out entirely if your home is not well insulated or your heating system is out dated.
Of course, there's the upfront cost of a smart thermostat, but when you consider the possible savings over time, it might be a great investment.
Convenience: There's no need to turn the system on manually. Not having to think about adjusting the thermostat is a huge selling point. Smart thermostats will lower the heating setting when it's required and start them again when they are. Combining internet connectivity with occupancy awareness means these devices perfectly balance outdoor conditions with your comfort.
Do Wireless Smart Thermostats Work?
It depends on the brand of smart thermostat you choose whether it will work without a Wi-Fi connection, but most smart gadgets may be used even if the internet connection is lost. This prevents customers from being locked out for long periods of time if there is an unexpected outage.
If this is a typical occurrence in your home, make sure the smart thermostat you choose offers controls on the device itself, rather than simply within the mobile app. However, if your Wi-Fi isn't working, many apps will allow you to connect to your setup via a 4G connection.
Use a Wireless Entertainment System to Improve User Experience and Increase the Value of Your Home
Wireless entertainment systems have made the user experience better. Several systems can be connected and controlled by just one tap of a button on your smartphone. Getting a smart TV for your home is also a good investment: that is if you are up for improving your visual experience. The good thing is that most of the TVs being sold today come with this feature.
Making your home tech-savvy will automatically increase its value. It is also a way of making your home more comfortable and practical , and as you may have noted, it can help you save you money and your precious time.
Conclusion
With the growing popularity of smart technology, its time to think about how it can help you in your home. A little planning and investment now will save you big in the future, make your life easier, safer and more enjoyable.
We can help advise you with the new technologies that are developing everyday. Contact us today on happytohelp@marbleair.com